How to pay for your order at KUMADOLL
There are 3 ways to complete the payment at KUMADOLL.
1.PayPal invoice
PayPal invoice will ensure your payment is secure and successful.You don't even need to have a PayPal account to use your credit card or savings card to complete the payment directly.
When you choose the PayPal method to complete your payment, you may find that you cannot complete the payment directly.
Don't worry, we'll create a PayPal invoice for you to complete the payment after we see your order.
(Please note that this is not automatically issued by the system, so you may have to wait 5-10 minutes to receive the PayPal invoice email.)
How to pay the invoice ?
Step1 Open the invoice link and click the "Pay" button
Step2 Fill in your PayPal account or click "Pay with Credit or Debit card" button
Step 3 Fill in your credit card information
Step 4 Fill in Billing address and Click "Pay now"
2. Credit Card (Pay Link)
You can use your credit card to complete payment of your order. We support ※Visa/Mastercard/JCB/Maestro credit card now. Please contact your bank if payment failed.

*Important Note
Because of the high security level of U.S. and Canadian banks, some banks have risk controls for higher amounts of single payments, which may cause your credit card payment to fail. Please contact your card issuing bank to remove the restriction.
If you do not want to face the bank, we recommend you to choose the PayPal invoice method to complete the payment.
Due to bank payment policy adjustment, most of sex doll product websites will be subject to strict review by credit card payment banks.
We have had to temporarily take down credit card payment methods until all audits are complete.
However, you can still use the credit card payment link to complete your payment.
This method is somewhat similar to PayPal invoice, we will create a credit card payment link for you after we receive your order. Sorry for any inconvenience.
*After you open the credit card payment link, you will get a page like below:
You can complete your payment here.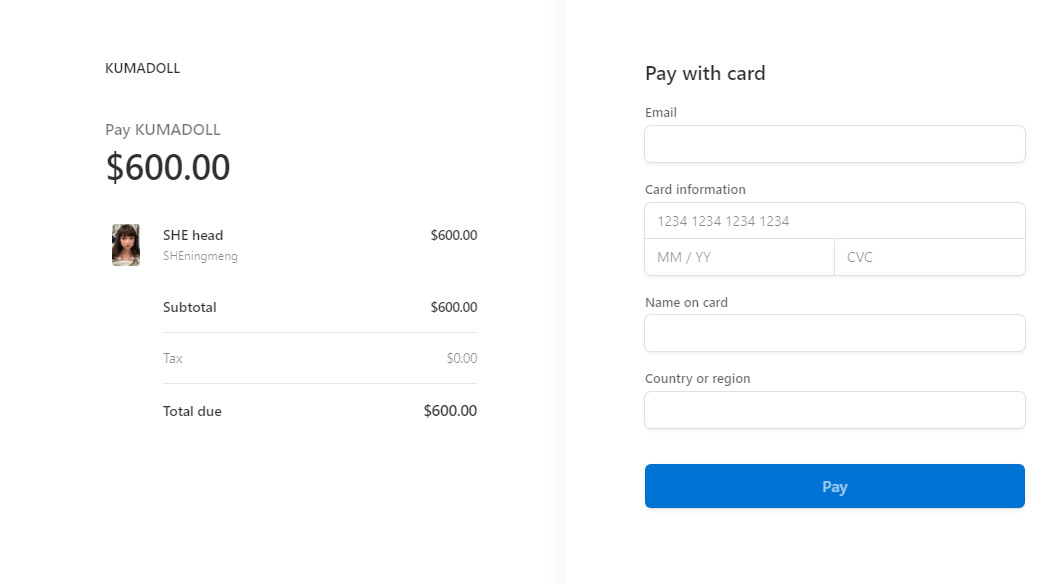 3.Western Union / Bank Transfer
If you choose the Bank Transfer/Western Union and checkout. You will get an order ID and use the order ID as a reference. Please send a bank transfer for your order amount to the bank account below. We will send you an order confirmation when we receive your payment.
Please contact us for a bank account.

If you have any questions, please contact sales@kumadoll.com for help.